WLS 218 – Fluffy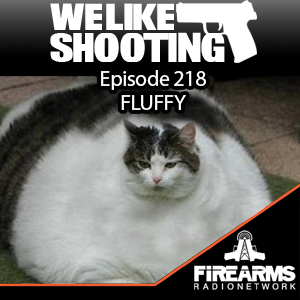 Listen to the show
Our panel tonight, is the ever present Jeremy Pozderac from River's Edge Tactical, SavageAF, the Machine-gun moses Aaron Krieger, My name is Shawn Herrin – Welcome to the show!
Manticore Arms
Shadow flash hider, Reverb muzzle brake, Afterburner linear comp.  All are 1/2 x 28 tpi, all will clear at least 9mm (the Afterburner will clear anything that takes a 1/2 x28 thread on the muzzle).  All are $37.95
Developed for Prepper Gun Shop by Manticore Arms, the PGS Hybrid magazine for Scorpion EVO features heat treated feed lips and a polymer body. The magazine is 100% made in the USA and counts as three parts for 922r compliance. Available in Clear and Smoke Tint the magazine has a 32 round capacity and has round count markings molded into the body. MSRP is $29.95 and they will be available for purchase at Prepper Gun Shop and their distributors starting in Late February/Early March of 2017.
Coupon code WLS10  for 10% off any day, every day for WLS listeners.  Don't share with people who don't listen, they don't deserve it!   Or, better yet, just tell your friends they should listen!
Giveaways brought to you by Patriot Patch Company!
Code: WLS 15% off!
4 current giveaways
Patriot Patch Company – https://welikeshooting.com/patriot
Blown Deadline – https://welikeshooting.com/bdl
Kenaz Tactical Group – https://welikeshooting.com/ktg
Project 150 – http://project150.us
Follow up From DOUBLE TAP – Burger?
IF YOU HAVE NOT ALREADY, JOIN US FOR ALL THE SHAWNANIGUNS ON WLS DOUBLE TAP EVERY WEDS, EXCEPT WHEN IT IS NOT ON A WEDS.
Gear Chat
DEZ Tactical Arms
DEZ WLSPatron gets you 10% off!
DEZ is featured in a full episode of History of the Gun on The Hunt Channel.   
Savage1r – Going retro with the Ruger P-85!

Jerambe –  Silver Solder

Aaron –  IV8888 Recap

Kevin- Vertx bag and Ryker Fist Grip

A-A-RONS DEBUNKING GUN MYTHS Brought to you by Brownells?
BUMPFIRE STOCKS TURN YOUR GUN FULLY AUTOMATIC
Lifetime Guarantee
Going Ballistic
JCAA Ammunition ALSO SLIDE CUTS FOR ALL Starting at 125 dollars.
Coke vs. Pepsi Challenge!
new JCAA calibers, 10mm 357 and 6.5CM.

WLS5OFF
Google reviews!
Take turns between political / gun industry news
iTunes Review Brought to us by SDI
Jeremy reads
Aaron is 3rd world ugly
by americanTruckerAF on Oct 05, 2017
RATING: ★★★★★
Bring back love letters to Aaron!! For god sakes get another female panelists preferably one with a slutty voice like Ava.
Dis is Vodas fada
by ZAC-N-JAZ on Oct 04, 2017
RATING: ★★★★★
YOU DONT KNOW MY HERITAGE! YOU DONT KNOW WHERE I COME FROM! YOU DONT KNOW MY FAVORITE COLOR! YOU DONT KNOW MY FAVORITE NUMBER! YOU DONT KNOW MY FAVORITE CHILD (it's not Voda)! YOU DONT KNOW MY EYE COLOR! YOU DONT KNOW MY FAMILIES MEDICAL HISTORY! YOU DONT KNOW MY SHOE SIZE! YOU DONT KNOW MY BODY FAT CONTENT( but pound for pound it's the best)! YOU DONT KNOW WHAT I DRIVE! YOU DONT KNOW WHERE I LIVE! YOU DONT KNOW MY PREFERRED INTERNET PROVIDER! YOU DONT KNOW MY FAVORITE CEREAL! YOU DONT KNOW WHAT YOU DONT KNOW SO UNTILL YOU KNOW WHAT I DONT KNOW AND MY SON VODA KNOWS WHAT I DONT KNOW DAT YOU KNOW WE GONNA KEEP ON PUTTING CONVICTS UNDA MAH GON!
Not what I expected
by LivingThePewPewLife on Oct 03, 2017
RATING: ★★★★★
I thought this show was called "We Like Shooting Up". I was looking forward to discussions of the finer points of injectable opiates. Turns out its actually about firearms and firearms accessories. I wasn't sure how I felt about that, since ghost guns with shoulder things that go up kill 93 million Americans every day. Even so, this is a pretty great show. The cast (which includes a former Marine with fewer state-side kills than Caitlyn Jenner and a man who eats white cake and shoots brown targets) seems to be knowledable, or really good at making stuff up. At the end of the day, this show is definitely worth listening to. Thanks for reading, and shoot up.
Great seeing you at the bullpup shoot
by NotNickLynch on Oct 03, 2017
RATING: ★★★★★
It was cool to meet all of you, I am happy that Jeremy was not there, also super funny to see Nick is the fattest cast member now.
Wrap up
You can do one or both, either way your contributions are greatly appreciated!
Thanks
Thank Guest! Also
Find us on ALL the social media and our website?

Just a reminder the gun related advocacy group (ask the guest about their state) and we always give out the Suicide prevention line, that number is 1 (800) 273-8255
We're here live every week on Monday and Weds night and on demand every damn day. Go to welikeshooting.com/show to subscribe!
Thanks for listening, and shoot straight.