WLS 416 – Bombfire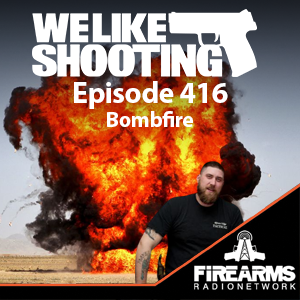 LISTEN TO THE SHOW
LoveWLS.com
We need your help to keep the show going! Check out LoveWLS.com to find out how you can help!
JOIN THE GUN CULT
Our Patreon replacement! Check out The Gun Cult to find out how you can help!
Check out our sponsors at the bottom, links to their sites and coupon codes!
Welcome to the We Like Shooting Show, episode 416. Tonight we will talk about Xtech Tactical Speedmag, 7.62×39 ban, HexMag, Mako, and more!
Our CAST is Jeremy Pozderac, Aaron Krieger, Nick Lynch and my name is Shawn Herrin.
Gear Chat
Where we talk about the stuff we have, the stuff that we want and the stuff that we need!
Shawn –

XTech Tactical Speedmag

Savage1r –

Carbon Fiber Hexmag

/

M&P-12

Nick –

Kimber R7 Mako
WLS Lifestyle
Where we talk about the gun lifestyle!
So many better ways to punish Russia
Going Ballistic with Savage1r
Savage1r goes over the news of the day relating to guns, rights and more!
iTunes Reviews
Please leave us reviews in iTunes! It makes all the difference!
Great show
⭐⭐⭐⭐⭐
#castlerock
The show is great except for the fact you have the most uninformed person doing the news. Between all the "you knows" and "ahhhs" and laughing at apparently his inner thoughts. He is unbearable considering A-Ron is stereotypical Jewish. Complaining about money and begging for free stuff it's pretty pathetic. How in the world was A-Ron a gunsmith instructor? Back to Savage…. Here's a hint read the article before the segment starts and don't add your pathetically stupid thoughts. Other than those 2 the show is fantastic
My favorite!
⭐⭐⭐⭐⭐
zzkeith
This has turned into my favorite podcast. Great show today without Aaron. Lol. All I do it's draw CAD programs all day, and this show helps me get through it. I wish you guys put out a show everyday. Whether you know it if not, you guys make a difference. Thanks! -Keith
We're here live every week on Monday / Wednesday nights and on demand every Thursday / Saturday. Go to welikeshooting.com/show to subscribe!