WLS 415 – Tampons vs. Flexseal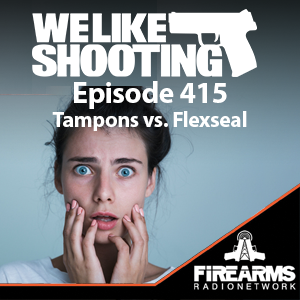 LISTEN TO THE SHOW
LoveWLS.com
We need your help to keep the show going! Check out LoveWLS.com to find out how you can help!
JOIN THE GUN CULT
Our Patreon replacement! Check out The Gun Cult to find out how you can help!
Check out our sponsors at the bottom, links to their sites and coupon codes!
Check out our Shootout challenge! Targets, rules and swag available here!
Welcome to the We Like Shooting show, Episode 415 – tonight we'll talk about Swampfox Optics, Medical Gear Outfitters, Blue Alpha, Faxon Firearms, Brownells, Bowers Group and more!
Annette Evans is the Beauty Behind the Blast and founder of "On Her Own," a project for women seeking support to survive and thrive as they navigate the world solo. When not working in the self-defense realm, she is a competitive shooter and Brazilian Jiu-Jitsu blue belt who goes to the gym too much. Annette's work includes studying strategies for both avoiding and de-escalating violence, as well as effective physical tools and techniques for personal safety. She can be found on Facebook and Instagram @onherownlife. In her spare time, she is a commercial attorney with a cat named Tuna.
You can find more about Annette Evans here
Cast
Our cast for episode 415 is Shawn Herrin, Aaron Krieger, Savage1r, Nick Lynch!
Gear Chat
Where we talk about the stuff we have, the stuff that we want and the stuff that we need!
Shawn – AR AK updates
Savage1r – canik Mete series
Guest – Phil – Jackery, Annette – Modlight OKW, Matt – Mantis Blackbeard
WLS Lifestyle
Where we talk about the gun lifestyle!
Joovy..
Going Ballistic with Savage1r
Savage1r goes over the news of the day relating to guns, rights and more!
iTunes Reviews
Please leave us reviews in iTunes! It makes all the difference!
Giveaways!
We're here live every week on Monday / Wednesday nights and on demand every Thursday / Saturday. Go to welikeshooting.com/show to subscribe!