WLS 408 – Nick's Ball Fan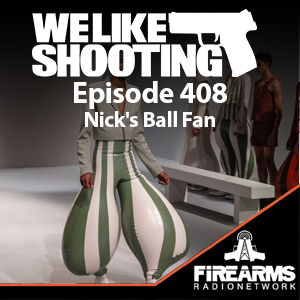 Listen to the Show
LoveWLS.com
We need your help to keep the show going! Check out LoveWLS.com to find out how you can help!
JOIN THE GUN CULT
Our Patreon replacement! Check out The Gun Cult to find out how you can help!
Check out our sponsors at the bottom, links to their sites and coupon codes!
Check out our Shootout challenge! Targets, rules and swag available here!
Welcome to the We Like Shooting Show, episode 407. Tonight we will talk about XProducts, Canto Arms, Fireworks, NON SAVAGE NEWS and more!
Our CAST is Jeremy Pozderac, Aaron Krieger, Nick Lynch and my name is Shawn Herrin.
Gear Chat
Where we talk about the stuff we have, the stuff that we want and the stuff that we need!
Aaron –

xproducts 22 conversion

Nick –

DL-44 kit
WLS Lifestyle
Where we talk about the gun lifestyle!
Just in time for July 4, America's latest shortage is … fireworks
Going Ballistic with Savage1r
Savage1r goes over the news of the day relating to guns, rights and more!
iTunes Reviews
Please leave us reviews in iTunes! It makes all the difference!
Great podcast!
Great podcast!
Entertaining a relatable.
Pause Derek
4 stars
WLS is Probably the most entertaining firearm related podcast on the app store and easily the most relatable. Triumvirate means "rule of three" and was the term used to describe the power sharing agreement between Pompey Magnus, Crassus, and Julius Ceasar in the late roman republic. I about had an aneurism listening to y'all mess up that definitely a couple months ago. Thanks for the entertainment guys. Keep it up and Shoot straight.
Jeremy
Aron hater
5 stars
Somebody please shoot Aaron
Giveaways!
We're here live every week on Monday / Wednesday nights and on demand every Thursday / Saturday. Go to welikeshooting.com/show to subscribe!