WLS 394 – Just Drink the Butter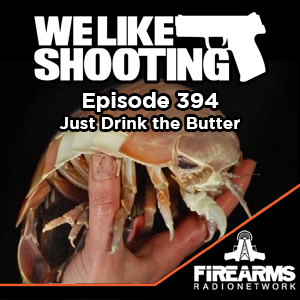 LISTEN TO THE SHOW
LoveWLS.com
We need your help to keep the show going! Check out LoveWLS.com to find out how you can help!
Welcome to We Like Shooting, Episode 394 Where we answer your questions, talk about new tech in the gun world, and touch base on gun industry news.
Cast
Our cast for tonight is Shawn Herrin, Nick Lunch, Aaron Krieger, Savage 1R and Jermey
Gear Chat 
Nick –

Glock 48

and

TLR-7A

–

adapter model



Shawn – Dream training list (5 classes)

Savage1r – Lee Enfield

#WLSisLife-Style




Looking at Trucks, Tactical ideas



Going Ballistic  
FPC and California come to settlement

over revisions to 2016 AWB

.

More people are buying guns and now

more Asians are getting interested in buying guns for their own protection

, according to

recent studies

:

 

Specifically, hate crimes against Asian Americans are more likely than hate crimes against either African Americans or Hispanics to be committed by non-White offenders. This finding may be attributed to animosity toward the "model minority" from other minority groups. As aforementioned, the "model minority" stereotype assuming Asian Americans' success in economics, education, and other opportunities generates potential competition or threats by members of other racial groups, which in turn may lead to resentment to be further acted upon through hate crimes.

Thanks stimmy checks!



Look into the

ATF Accountability Act

.
Tony P via email
⭐️⭐️⭐️⭐️⭐️
Love this fucking show, been listening since the beginning. Took a year off while she who must not be named was on, came back and Jeremy was married with kids?? What the fuck?? These bastards are always good for a few laughs, occasionally I'll actually learn something too. Great fucking 2a ambassadors, all of them (yes, even Aaron). Aaron and Nick, please never stop fucking with Shawn's ad reads. #savagegetafuckingfflalready #rocketffl #lilback #SSBrich 
FROM OUR FACEBOOK MESSAGES
*Review I'm not willing to put on the internet*
I once ate a couple live gold fish out of centerpieces at my buddy's wedding. Then I railed a cubby girl in the parking lot. All within the first 30min. Great show, keep up the good work, but try harder to live up to my example.
Just a reminder to join a gun related advocacy group (ask the guest about their state) and we always give out the Suicide prevention line, that number is 1 (800) 273-8255 or text a message to 741741
We're here live every week on Monday and Weds. and on demand every damn day. Go to welikeshooting.com/show to subscribe!
Support Our Sponsors! Discounts codes below!

Company

Code

Benefit

Link

Faxon Firearms

WLS10 / WLSGUN

10% off parts, deals on guns

Swampfox Optics

WLS15

25% off

Brownells

Varies

Deals every day! Check slider

Second Call Defense

Click link

Free month

Black Rhino Concealment

WLSMOFO

10% off

Bowers Group

WLS

$15 off

Polymer80

WLSISLIFE

15% off

Manticore Arms

WLS10

10% off

NeoMag

WLS

10% off

Sonoran Desert Institute

Varies

Check site

Patriot Patch Co.

WLS10

10% off

Noisefighters

Click link

10% off
We're here live every week on Monday / Wednesday nights and on demand every Thursday / Saturday. Go to welikeshooting.com/show to subscribe!