WLS 389 – Valentimes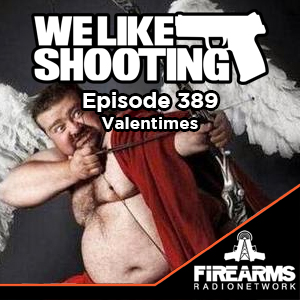 LISTEN TO THE SHOW
LoveWLS.com
We need your help to keep the show going! Check out LoveWLS.com to find out how you can help!
Welcome to We Like Shooting, Episode 389 Where we answer your questions, talk about new tech in the gun world, and touch base on gun industry news.
Cast
Our cast for tonight is Shawn Herrin, Aaron Krieger, Savage 1R and Jermey
WLSMOFO 10% off
WLS10 10% off
Gear Chat 
Shawn – SafeLife Defense Armor

Aaron –

PSA AK-103

Savage1r –

Topless red dot?



#WLSisLife-Style




Gun bans, what's your plan
Going Ballistic  
REVIEWS

 

My echo chamber

⭐️⭐️⭐️⭐️⭐️

Southeast CO Dave

So I've been listening to the show for three-ish years and been a cult member for a little over a year. I got a job sitting in a truck all day so I can finally catch up on shows I've missed. In this time I've realized that your most ideal politician is yourself. We're not politicians so we take the good with the bad and try to make the best of it. It is nice seeing Soviet1r slightly swinging more Pozderacan as time goes on, so there's that. But please, never change the cast. I know there's disagreements and bickering, but everyone fills a niche. Shawn is the wls fact checker and can rebut just about anything. Along with keeping the show organized (as can be), he's irreplaceable. I jive best with Jeremy so, you do you boo boo. Nick, while not very confrontational, is steadfast in his beliefs and his subtle jokes are fantastic. Savage is the guy that reads every headline from everywhere (which I know is his job) but his researching is top notch. Also, please don't grow a beard. It'll look like a dirty thumb print, we'll call it the dirty savage. And now Aaron, where do I begin. You are hard headed and argumentative, but while you and I differ politically, you break up this echo chamber. You see things from a different side that I would've never thought to look at and it's almost refreshing. Your jokes and quick wit make this show what it is and it wouldn't ever be the same without you. #wlsisfamily #haverodinontheshow #PozforPrez

 

#WLS

⭐️⭐️⭐️⭐️⭐️

eddy6t
Love the show I got into firearms about 2 years ago I've learned so much since I started listening to wls. The cast is great even that guy errand isn't too bad I think people should stop bashing him so much. Keep up the good work guys much love from Kenosha Wisconsin!!
Just a reminder to join a gun related advocacy group (ask the guest about their state) and we always give out the Suicide prevention line, that number is 1 (800) 273-8255 or text a message to 741741
We're here live every week on Monday and Weds. and on demand every damn day. Go to welikeshooting.com/show to subscribe!
Support Our Sponsors! Discounts codes below!

Company

Code

Benefit

Link

Faxon Firearms

WLS10 / WLSGUN

10% off parts, deals on guns

Swampfox Optics

WLS15

25% off

Brownells

Varies

Deals every day! Check slider

Second Call Defense

Click link

Free month

Black Rhino Concealment

WLSMOFO

10% off

Bowers Group

WLS

$15 off

Polymer80

WLSISLIFE

15% off

Manticore Arms

WLS10

10% off

NeoMag

WLS

10% off

Sonoran Desert Institute

Varies

Check site

Patriot Patch Co.

WLS10

10% off

Noisefighters

Click link

10% off
We're here live every week on Monday / Wednesday nights and on demand every Thursday / Saturday. Go to welikeshooting.com/show to subscribe!