WLS 384 – When Jeremy yelled at the feds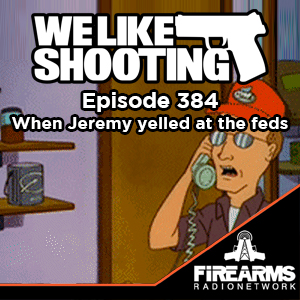 LISTEN TO THE SHOW
LoveWLS.com
We need your help to keep the show going! Check out LoveWLS.com to find out how you can help!
JOIN THE GUN CULT
Our Patreon replacement! Check out The Gun Cult to find out how you can help!
Check out our sponsors at the bottom, links to their sites and coupon codes!
Check out our Shootout challenge! Targets, rules and swag available here!
Welcome to the We Like Shooting show, Episode 384 – tonight we'll talk about he Mac Daddy, New Magpul Sights, Firing the P50, Hank Strange, Brownells, Swampfox Optics, Patriot Patch Co, The Sonoran Desert Institute, Polymer 80, Second Call Defense! and more!
Our Guest is Hank Strange from Hank Strange Media
Hank is an Enthusiastic Supporter of The Second Amendment, An Avid Filmmaker, Writer, Blogger, and Digital Artist
You can find more about Hank Strange here
Cast
Our cast for episode 384 is Shawn Herrin, Aaron Krieger, Savage1r, Jeremy Pozderac, Nick Lynch!
Gear Chat
Where we talk about the stuff we have, the stuff that we want and the stuff that we need!
Shawn – MacDaddy

Nick – 

New Magpul Sights

Savage1r – 

Kel-tec P50 firing
WLS Lifestyle
Where we talk about the gun lifestyle!
1984
Going Ballistic with Savage1r
Savage1r goes over the news of the day relating to guns, rights and more!
iTunes Reviews
Please leave us reviews in iTunes! It makes all the difference!
No one likes a tease!!
****
not shane herrin
What the heck happened??? We were really enjoying they show without Aronn. I really wish we could double our cult membership and could get episodes WITHOUT him. I think the listeners (especially the ones in the cult) have been very clear that we enjoy the show much better without him and we feel like Shawn is turning his back on his paying listeners just so he doesn't hurt his friend's feelings. I can respect that, however, many listeners and I will be pulling our donations via cult fees if our requests are continued to be ignored. Good day. PS: f Savage.
Best gun podcast
*****
WVreloader
I enjoy listening to your podcast when I'm reloading. I've taken a lot of notes from Jeremy, I use to be a poor but now I wouldn't rather spend the money for nicer guns. I'm really interested in the 243 rock chucker wildcat. What is the expected barrel life for that load?
Giveaways!
Support Our Sponsors! Discounts codes below!

Company

Code

Benefit

Link

Faxon Firearms

WLS10 / WLSGUN

10% off parts, deals on guns

Swampfox Optics

WLSISLIFE

21% off

Brownells

Varies

Deals every day! Check slider

Second Call Defense

Click link

Free month

Black Rhino Concealment

WLSMOFO

10% off

Bowers Group

WLS

$15 off

Polymer80

WLSISLIFE

15% off

Hackett Equipment

WLSISLIFE

21% off

Franklin Armory

WLS10

10% off

Sonoran Desert Institute

Varies

Check site

Patriot Patch Co.

WLS10

10% off

Noisefighters

Click link

10% off

Medical Gear Outfitters

welikeshooting

11% off
We're here live every week on Monday / Wednesday nights and on demand every Thursday / Saturday. Go to welikeshooting.com/show to subscribe!