WLS 381 – Savage's Pull Ups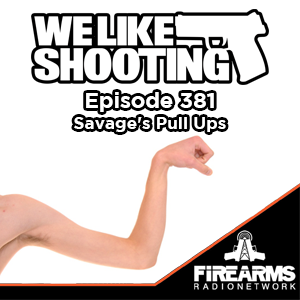 LISTEN TO THE SHOW
LoveWLS.com
We need your help to keep the show going! Check out LoveWLS.com to find out how you can help!
JOIN THE GUN CULT
Our Patreon replacement! Check out The Gun Cult to find out how you can help!
Check out our sponsors at the bottom, links to their sites and coupon codes!
Check out our Shootout challenge! Targets, rules and swag available here!
Welcome to the We Like Shooting show, Episode 381 – tonight we'll talk about Medical Gear Outfitters, Second Call Defense, Faxon Firearms, Bowers Group, Black Rhino Concealment, Kalashnikov USA BARS, Galco leather holster care, Cajun gun works, Kel-Tec's P50, Safe Life Defense Brownells and more!
Our Guest is Nick Groat from Safe Life Defense
Nick Groat is the President of Safe Life Defense, a Las Vegas based company known for award-winning body armor. Safe Life Defense armor offers unparalleled protection and is favored by Police, EMS, Security, and civilians all over the United States. Safe Life Defense has revolutionized the body armor industry effectively using social marketing and eliminating barriers to ownership through easy online ordering. A lifelong entrepreneur, Groat is known for being an action driven businessman, fearlessly taking risks, quickly adopting new technology, and redefining the future of personal protection.
You can find more about Nick Groat here
Cast
Our cast for episode 381 is Shawn Herrin, Savage1r, Jeremy Pozderac, Nick Lynch!
Gear Chat
Where we talk about the stuff we have, the stuff that we want and the stuff that we need!
Shawn – 

Kalashnikov USA BARS

Jerambe – CZ-75/97 Cajun gun works

Savage1r – 

Kel-Tec P50 5.7 pistol
WLS Lifestyle
Where we talk about the gun lifestyle!
What would Santa carry?
Going Ballistic with Savage1r
Savage1r goes over the news of the day relating to guns, rights and more!
iTunes Reviews
Please leave us reviews in iTunes! It makes all the difference!
Jason B
*****
I recommend the show. It's even better live. I try to watch it live every time because I'm waiting for Aaron to give Jeromy a brain aneurysm. I expect it to be similar to what happened to Ron Paul on his live podcast. All you have to do is ask Aaron to explain roller delayed blowback.
Collin F
*****
After watching the SwampFox RDS video I enjoyed the fact that while they review and inform it's not some boring point by point video it's informative while sliding jokes in here and there.
Giveaways!
Support Our Sponsors! Discounts codes below!

Company

Code

Benefit

Link

Faxon Firearms

WLS10 / WLSGUN

10% off parts, deals on guns

Swampfox Optics

WLSISLIFE

21% off

Brownells

Varies

Deals every day! Check slider

Second Call Defense

Click link

Free month

Black Rhino Concealment

WLSMOFO

10% off

Bowers Group

WLS

$15 off

Polymer80

WLSISLIFE

15% off

Hackett Equipment

WLSISLIFE

21% off

Franklin Armory

WLS10

10% off

Sonoran Desert Institute

Varies

Check site

Patriot Patch Co.

WLS10

10% off

Noisefighters

Click link

10% off

Medical Gear Outfitters

welikeshooting

11% off
We're here live every week on Monday / Wednesday nights and on demand every Thursday / Saturday. Go to welikeshooting.com/show to subscribe!