WLS 371 – Not young, just Asian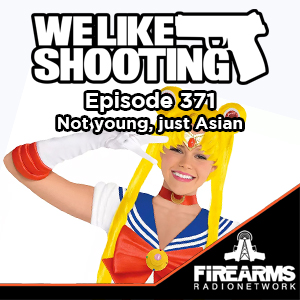 LISTEN TO THE SHOW
LoveWLS.com
We need your help to keep the show going! Check out LoveWLS.com to find out how you can help!
JOIN THE GUN CULT
Our Patreon replacement! Check out The Gun Cult to find out how you can help!
Check out our sponsors at the bottom, links to their sites and coupon codes!
Check out our Shootout challenge! Targets, rules and swag available here!
Welcome to the We Like Shooting show, Episode 368 – tonight we'll talk about  Second Call Defense, Faxon Firearms, Black Rhino Concealment, Swampfox Optics, Hackett Equipment, Medical Gear Outfitters, Brownells, Airsoft, the Kopfjager K700, Textron squad weapons, Blackwater Worldwide and more!
Our Guest is Jimi story from Blackwater
Former Marine
ESI grad
Gavin de Becker executive protection agent
Blackwater Operator
Multi Patent holder gun industry
You can find more about Jimi story here
Cast
Our cast for episode 368 is Shawn Herrin, Aaron Krieger, Savage1r, Jeremy Pozderac, Nick Lynch!
Gear Chat
Where we talk about the stuff we have, the stuff that we want and the stuff that we need!
Shawn – Airsoft

Guest –  Crypto
WLS Lifestyle
Where we talk about the gun lifestyle!
Getting suggestions for after boog wear
Going Ballistic with Savage1r
Savage1r goes over the news of the day relating to guns, rights and more!
iTunes Reviews
Please leave us reviews in iTunes! It makes all the difference!
Tomaidhmor
*****
Aaron keeps wanting nudes so I was wanting his email to send some bigus dickus pics. There is some out there that may make his stomach turn
Aaron
Daddydogpt
*
As we get closer to the election, my tolerance to people like Aaron becomes less and less. I know he is a friend of yours and I don't know him like you do ( thank God). He constantly makes excuses for liberal actions and brings a liberal slant to half of what he says. Does it strain your relationship? I had a lib for a friend and we always found common ground when we could. Then it just got to where the common ground was smaller and smaller. After awhile it got to where I had to not be myself just to get along with him. He was constantly attacking my beliefs. I used to like Aaron, lately the show has gotten more political, as everything else has, and I find myself annoyed at the sound of his vote. I really love the podcast and I can hear the frustration in Shawn. My political beliefs are very close to Jeremy's.
Giveaways!
Support Our Sponsors! Discounts codes below!

Company

Code

Benefit

Link

Faxon Firearms

WLS10 / WLSGUN

10% off parts, deals on guns

Swampfox Optics

WLSISLIFE

21% off

Brownells

Varies

Deals every day! Check slider

Second Call Defense

Click link

Free month

Black Rhino Concealment

WLSMOFO

10% off

Bowers Group

WLS

$15 off

Polymer80

WLSISLIFE

15% off

Hackett Equipment

WLSISLIFE

21% off

Franklin Armory

WLS10

10% off

Sonoran Desert Institute

Varies

Check site

Patriot Patch Co.

WLS10

10% off

Noisefighters

Click link

10% off

Medical Gear Outfitters

welikeshooting

11% off
We're here live every week on Monday / Wednesday nights and on demand every Thursday / Saturday. Go to welikeshooting.com/show to subscribe!