WLS 334 – Allegedly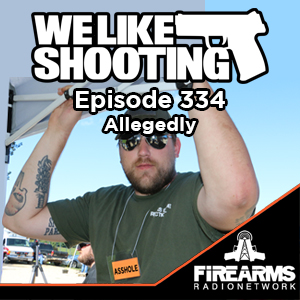 LISTEN TO THE SHOW
LoveWLS.com
We need your help to keep the show going! Check out LoveWLS.com to find out how you can help!
JOIN THE GUN CULT
Our Patreon replacement! Check out The Gun Cult to find out how you can help!
This episode of the We Like Shooting show is brought to you by Second Call Defense, Manticore Arms, DEZ Tactical Arms, the Sonoran Desert Institute, Faxon Firearms, Patriot Patch Company and Brownells!
Check out our Shootout challenge! Targets, rules and swag available here!
Welcome to the We Like Shooting show, Episode 334 – tonight we'll talk about DMR build, CETME and the TLR-9, a shot show recap and more!
Cast
Our cast for episode 334 is Shawn Herrin, Aaron Krieger, Savage1r, Jeremy Pozderac, Nick Lynch!
Gear Chat
Where we talk about the stuff we have, the stuff that we want and the stuff that we need!
Shawn – My DMR style build 

NickLynch – 

TLR-9

Savage1r –  

Custom CETME rifles
WLS Lifestyle
Where we talk about the gun lifestyle!
Gray man damaging to the 2nd amendment
Going Ballistic with Savage1r
Savage1r goes over the news of the day relating to guns, rights and more!
Media declare Virginia Protesters all white supremecists
iTunes Reviews
Please leave us reviews in iTunes! It makes all the difference!
This is a review.
Samuel Book 2
★★★★★
This is a review. Jermey has to read this review. He will hate it. Jeremy hates reading reviews. Poor Jeremy. Too bad the reviews aren't written in crayon so that he could lick the screen. That's about all he could lick. Jeremy punches like a girl. Complete sentences are hard.
1:16:14 251
Strong handed
★★★★★
So funny and sometimes useful. 1:16:14 on 251 made me happy.
We like shooting more like I like killing an hour or my life
Chaserpatterson428
★★★★★
You guys are perfect have been listening since episode 10 I love the show I work overnights at my job an I just listen to the podcast all night. Just joined the cult was on Patreon for awhile I like the cult better. Keep doing gods work.
Your Skully is Molder
SquattyBob
★★★★★
I recently decided to watch the podcast being filmed live in YouTube. And the cast looks just like I figured. The family from the X-files episode "Home". Which one is the mom? Flip a coin. It is really too close to call. Also, did the baby faced guy ever get his p80 10mm? Don't answer that. No one cares. I'll keep watching as long as I don't go blind from all the whacking.
Giveaways!
Support Our Sponsors! Discounts codes below!

Company

Code

Benefit

Link

Faxon Firearms

WLS10 / WLSGUN

10% off parts, deals on guns

Swampfox Optics

WLSISLIFE

25% off

Brownells

Varies

Deals every day! Check slider

Second Call Defense

Click link

Free month

Black Rhino Concealment

WLSMOFO

10% off

Bowers Group

WLS

$15 off

Polymer80

WLSISLIFE

15% off

Manticore Arms

WLS10

10% off

NeoMag

WLS

10% off

Sonoran Desert Institute

Varies

Check site

Patriot Patch Co.

WLS10

10% off

Noisefighters

Click link

10% off
We're here live every week on Monday / Wednesday nights and on demand every Thursday / Saturday. Go to welikeshooting.com/show to subscribe!