WLS 303 – Jeremy Goes Commie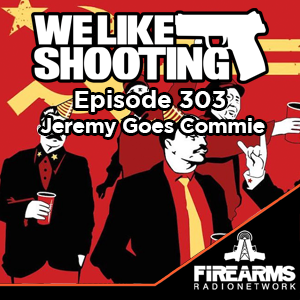 Listen to the Show
LoveWLS.com
We need your help to keep the show going! Check out LoveWLS.com to find out how you can help!
This episode of the We Like Shooting show is brought to you by Second Call Defense, Manticore Arms, DEZ Tactical Arms, the Sonoran Desert Institute, Faxon Firearms, Patriot Patch Company and Brownells!
Check out our Shootout challenge! Targets, rules and swag available here!
Welcome to the We Like Shooting show, Episode 303 – tonight we'll talk about and more!
Our Guest is Aaron Krieger from WE LIKE SHOOTING INC
Aaron is a handsome man who is loved by all and demands tribute.
You can find more about Aaron Krieger here
Cast
Our cast for episode 303 is Shawn Herrin, Aaron Krieger, Jeremy Pozderac, Nick Lynch!
Second Call Defense
If you carry or use a gun to protect yourself an/or your family then you need Second Call Defense. They handle what comes after the trigger is pulled. Don't wait until it's too late. Get Second Call Defense today!
Get a free month and a free We Like Shooting mug when you sign up! Once you are signed up forward your email confirmation to automated@welikeshooting.com to get your mug!
Manticore Arms
Reality based accessories that solve problems! Manticore Arms makes parts for your fighting rifles, whether it's an AK, AR-15, AUG, Tavor, CZ Scorpion Evo or even something else!
Get 10% off at Manticore Arms with code WLS10!
Gear Chat
Brought to you by DEZ Tactical Arms
Where we talk about the stuff we have, the stuff that we want and the stuff that we need!
Shawn – 

Black Beard Belts

Aaron –  

Pepper Ball TCP

Jerambe –  

Ruger Super Blackhawk Bisley .454 Casull
DEZ Tactical Arms
Rifles and accessories for the AR-15 lover! Whether you need a full rifle or just parts to build one DEZ has your back. High quality, match grade and most parts are made in house.
Get 10% off at DEZ Tactical Arms with code WLSPATRON!
WLS Lifestyle
Brought to you by Brownell's
Where we talk about the gun lifestyle!
Brownell's
Everything you could possibly need.
Support the show by buying from Brownell's! FRN get's a percentage.
Faxon Firearms
Quickly taking over. Barrels, slides, the ARAK and more!
Going Ballistic with Savage1r
Brought to you by Faxon Firearms
Savage1r goes over the news of the day relating to guns, rights and more!
SDI
Learn how to be a gunsmith in the comfort of your own home. Distance learning that gives you tools and a gun in a box to build as you learn! Whether you want to get more acquianted with your AR-15 or want an associates degree, SDI is the place for you.
iTunes Reviews
Please leave us reviews in iTunes! It makes all the difference!
Great Show!
by WParkinson4 on
RATING: ★★★★★
I really enjoy the show! I would post something witty but others have done pretty well with that. I really enjoy the show and look forward to each episode. Keep up the good work!!
Holy Cow
by Fun Key Cold Medina  on
RATING: ★★★★★
Great show, I really enjoy the part where Jeremy gets mad and pretends he is going to kill everyone. I would actually believe his rage if he werent such a puzzy. And Poor Aaron, when your feet are gone, what do you plan on doing with your shoes? I dont think the CDC wants something that nasty. Nick, you fat. Shawn, your head is huge, but thank god you got those ears to balance everything out. Savage… I got nothin.   
FACE BOOK REVIEWS
Chris Kirkland  recommends We Like Shooting.
These guys are a bunch of goofballs that like guns, a LOT. Funny group of guys that keep stuff interesting and informative. I've been listening for about 3 years and highly recommend the show if you have time or brain cells to waste. Just kidding. Great show guys keep it up. Chris
Daniel Joe  recommends We Like Shooting.
Best group of guys in the firearms world (maybe second only to the guys over at Brownells). They'll make you laugh, they'll make you cry, and they'll make you dial the suicide hotline (text 741741, I do it every episode).
In all honestly the We Like Shooting show has become something that I never want to miss and I'm sure you'll enjoy the edited show especially. The tone of the censoring "beeps" is incredibly soothing.
5 Stars, A+++.
Shawn Kopinski  recommends We Like Shooting.
literally the best gun show from 3 fat guys, a commie, and a giant. also this is not a paid review.
Patriot Patch Company
The absolute best in patches and 2A shirts!
Giveaways!
We're here live every week on Monday nights and on demand every Thursday. Go to welikeshooting.com/show to subscribe!