WLS 268 – Team May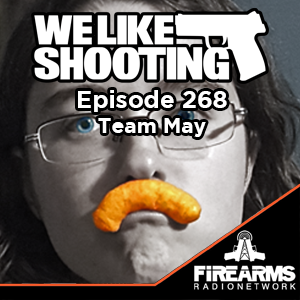 Listen to the show
LoveWLS.com
We need your help to keep the show going! Check out LoveWLS.com to find out how you can help!
This episode of the We Like Shooting show is brought to you by Second Call Defense, Manticore Arms, DEZ Tactical Arms, the Sonoran Desert Institute, Faxon Firearms, Patriot Patch Company and Brownells!
Check out our Shootout challenge! Targets, rules and swag available here!
Cast
Our cast for episode 268 is Shawn Herrin, Aaron Krieger, Savage1r, Jeremy Pozderac, Nick Lynch!
Second Call Defense
If you carry or use a gun to protect yourself an/or your family then you need Second Call Defense. They handle what comes after the trigger is pulled. Don't wait until it's too late. Get Second Call Defense today!
Get a free month and a free We Like Shooting mug when you sign up! Once you are signed up forward your email confirmation to automated@welikeshooting.com to get your mug!
Manticore Arms
Reality based accessories that solve problems! Manticore Arms makes parts for your fighting rifles, whether it's an AK, AR-15, AUG, Tavor, CZ Scorpion Evo or even something else!
Get 10% off at Manticore Arms with code WLS10!
Gear Chat
Brought to you by DEZ Tactical Arms
Where we talk about the stuff we have, the stuff that we want and the stuff that we need!
NickLynch – 

Q Mini Fix

Savage1r – 

NeoMag 9mm pocket clip

 
Shawn – 

Faxon Firearms M&P Slides
DEZ Tactical Arms
Rifles and accessories for the AR-15 lover! Whether you need a full rifle or just parts to build one DEZ has your back. High quality, match grade and most parts are made in house.
Get 10% off at DEZ Tactical Arms with code WLSPATRON!
WLS Lifestyle
Brought to you by Brownell's
Where we talk about the gun lifestyle!
Storage
Brownell's
Everything you could possibly need.
Support the show by buying from Brownell's! FRN get's a percentage.
Faxon Firearms
Quickly taking over. Barrels, slides, the ARAK and more!
Going Ballistic with Savage1r
Brought to you by Faxon Firearms
Savage1r goes over the news of the day relating to guns, rights and more!
SDI
Learn how to be a gunsmith in the comfort of your own home. Distance learning that gives you tools and a gun in a box to build as you learn! Whether you want to get more acquianted with your AR-15 or want an associates degree, SDI is the place for you.
iTunes Reviews
Please leave us reviews in iTunes! It makes all the difference!
WLS Backlog check in  
by EquinoX8 on Oct 04, 2018
RATING: ★★★★★
I started listening to WLS on the 28th of August. Since then I have listened to 5-6 shows a night for 5 nights a week. It is now October 3 and I have made it back to episode 200. Because of this show I now have Second Call Defense after the cast pointed out the need for self defense insurance. I've bought from Patriot patch co, Brownells, and have a #Hereininmypants for my shield from Black rhino.This show will provide you endless hours of laughter from the cast roasting each other and voda…(laughed till I cried), many well rounded points (mainly from Jeremy) and tones of information about new firearms technology.This is without a doubt the best podcast I have ever heard and I Look forward to getting to episode 171.Thank you all- Nick
Perfect counterpoint to the news
by Chef LizzyO on Oct 06, 2018
RATING: ★★★★★
Covers a broad range of topics. Hosts are funny and interesting. They disagree but genuinely enjoy each other's company. Except for Nick, I am not sure if anyone enjoys his crap. The "WLS is lifestyle" segment always gives me a moment of pause, sometimes spot on, sometimes it is like WTF.
5 stars!
by CMK NYC on Oct 05, 2018
RATING: ★★★★★
One of my favorite podcasts! Thank you for all your firearms insight.
Honest & Uplifting
by Andrea Shapiro on Sep 28, 2018
RATING: ★★★★★
Delightful but also not in the business of sugar-coating I honestly feel like this is one of the few groups of people who's insight into gun products I can trust!
This is what'€™s making me happy
by The Cat's Name on Sep 17, 2018
RATING: ★★★★★
I'€™ve been listening to this podcast off and on almost since it started. It never fails to be funny, smart, or interesting. I can'€™t recommend it highly enough.
Great recommendations, but…..
by Eddiet29 on Sep 07, 2018
RATING: ★★★★★
I have such mixed feelings about this podcast. On one hand, I never miss it. It's turned me on to so many great products.  I really find it indispensable. On the other, the Jeremy can be so annoying at times that I want to give up on it. I understand you are angry bro, but gosh darn it, pull that stick out of your butt and try to lighten up. Good content however so it trumps Emo Jeremy.
My favorite podcast
by amela892 on Aug 15, 2018
RATING: ★★★★★
Like hanging out with my best friends during my commute twice a week. Plus, Savage's take on news and what he reads on Reddit almost always line up with my personal opinion so I can really trust him, Also I am a communist too, so keep it up comrade Savage.
Patriot Patch Company
The absolute best in patches and 2A shirts!
Giveaways!
We're here live every week on Monday nights and on demand every Thursday. Go to welikeshooting.com/show to subscribe!