WLS 264 – 1-900-Jeremy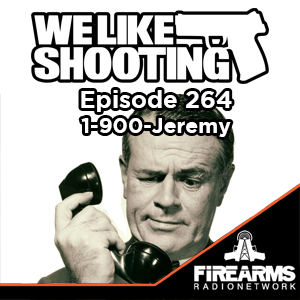 Listen to the show
LoveWLS.com
We need your help to keep the show going! Check out LoveWLS.com to find out how you can help!
This episode of the We Like Shooting show is brought to you by Second Call Defense, Manticore Arms, DEZ Tactical Arms, the Sonoran Desert Institute, Faxon Firearms, Patriot Patch Company and Brownells!
Check out our Shootout challenge! Targets, rules and swag available here!
Welcome to the We Like Shooting show, Episode 264 – tonight we'll talk about TacticalRX, Bullpup Shotguns, Faxon Firearms M&P barrels, Hi-Point and more!
Our Guest is David Kiwacka from Hi-Point Firearms & Inland Mfg
Marketer for Hi-Point Firearms & Inland Mfg
You can find more about David Kiwacka here
Cast
Our cast for episode 264 is Shawn Herrin, Aaron Krieger, Savage1r, Jeremy Pozderac, Nick Lynch!
Second Call Defense
If you carry or use a gun to protect yourself an/or your family then you need Second Call Defense. They handle what comes after the trigger is pulled. Don't wait until it's too late. Get Second Call Defense today!
Get a free month and a free We Like Shooting mug when you sign up! Once you are signed up forward your email confirmation to automated@welikeshooting.com to get your mug!
Manticore Arms
Reality based accessories that solve problems! Manticore Arms makes parts for your fighting rifles, whether it's an AK, AR-15, AUG, Tavor, CZ Scorpion Evo or even something else!
Get 10% off at Manticore Arms with code WLS10!
Gear Chat
Brought to you by DEZ Tactical Arms
Where we talk about the stuff we have, the stuff that we want and the stuff that we need!
Aaron –   

Tactical RX

Savage1r – 

Another bullpup shotgun.

Shawn – Faxon M&P 2.0 Compact barrels
DEZ Tactical Arms
Rifles and accessories for the AR-15 lover! Whether you need a full rifle or just parts to build one DEZ has your back. High quality, match grade and most parts are made in house.
Get 10% off at DEZ Tactical Arms with code WLSPATRON!
WLS Lifestyle
Brought to you by Brownell's
Where we talk about the gun lifestyle!
Happy Birthday Jeremy
Brownell's
Everything you could possibly need.
Support the show by buying from Brownell's! FRN get's a percentage.
Faxon Firearms
Quickly taking over. Barrels, slides, the ARAK and more!
Going Ballistic with Savage1r
Brought to you by Faxon Firearms
Savage1r goes over the news of the day relating to guns, rights and more!
SDI
Learn how to be a gunsmith in the comfort of your own home. Distance learning that gives you tools and a gun in a box to build as you learn! Whether you want to get more acquianted with your AR-15 or want an associates degree, SDI is the place for you.
iTunes Reviews
Please leave us reviews in iTunes! It makes all the difference!
Anne Gingrass RATING: ★★★★★
We Like Shooting is a great podcast! Informative AND funny. Great guest appearances and the hosts are top notch. Can't live without WLS in my life!
Kriss Gill RATING: ★★★★★
All hail great leader Shawn Herrin. The gospel of we like shooting needs to be shouted from the rooftops and as king rooftopper I will continue to do so until this show is no longer being made. This is the best firearms podcast out there and the community of people that are associated with this podcast are some of the best people I've ever had the pleasure of meeting. Keep up the good shows.
1Shawn Herrin
Adam Stone RATING: ★★★★★
Priceless advice and opinions from seasoned veterans and new to the game alike. Funny, educational, and, well, GUNS!! #Merica #defendthe2nd
James McCoy RATING: ★★★★★
My number one favorite podcast. Twice a week I can't wait for the show plus the extra content on the fb page. The Patreon group is the best group I've ever belonged to and it truly embodies #wlsisfamily and #wlsislife. I just wish Jeremy would come out of the closet already and rock those chaps of his on his motorcycle. Also he's an SOT and he's tall.
Mark Bartholomew RATING: ★★★★★
Love the show, started listening somewhere around episode 40. The show continues to get better every week. As the host Shawn keeps the show on track (somewhat) while being both interesting and funny. Aaron always has interesting questions and makes me laugh out loud at least once a show. Jeremy is great with explaining technical issues in a way that l can understand (usually).
And there's 2 other guys.
Randy Smith RATING: ★★★★★
The show is great I don't know how Jeremy puts up with you all. Also can I get my tractor trailer into Jeremy's new range? Keep up the great work.
Ken Mecone RATING: ★★★★★
"WLS Is Not Life – It's An Infection"
Cliff Vickery RATING: ★★★★★
I originally came across the podcast after seeing the short clip of the Voda interview. I almost pissed myself I was laughing so hard, so I subscribed on iTunes. Thoroughly enjoy the banter and different viewpoints, keep churning out good stuff fellas.
Dasilva Joe RATING: ★★★★★
I was promised Firearms news, humor and white cake.
The host and fearless leader of this band of Misfits is Shawn Herrin. He is like your fat, alcoholic, creepy uncle that told you inappropriate stories when you were 12 years old during the holidays, Shawn is just not as fat anymore.
Speaking of old and creepy, AA-ron AKA "machine gun Moses". For being old as fuck, he has them comedic timing and mentality of a 10 year old.. that's probably why he gets along with his crew.
Moving on to Savage AF. He is like a raccoon that can gunsmith and scour the trash of the internet for cheap firearms projects. Also I hate to wake you from your paranoid Stoner coma, but there is a world that exists outside of Washington and Reddit.
Next up is Nick "your accent is #fakenews" Lynch, is Shawn's trusty sidekick. He is as alert as a sloth with an IV drip cocktail of NyQuil and heroin.
And the biggest for last. Jeremy is the redneck version of The Hulk, he's just more angry, reeks of chew bacon and whiskey, determined to get a stateside and can run a belt-fed machine gun. What was the Marine Corps thinking?
In summary If you have a dark sense of humor and a love of firearms.. You found your show. They have delivered on the Firearms industry news and the humor. want more? Become a patron to get an uncensored show and join the private Facebook group. ( hi points included) #thecakeisalie
Southpaw Joe
Melissa Ridings RATING: ★★★★★
These guys never disappoint on their gun knowledge and the amount of frivolity that goes down during each episode.
Jake Bishop RATING: ★★★★★
WLS is great!! It's like hanging out and BS-ing with your buddies in the garage, you know the buddies your wife won't allow in the house cause they're jackasses. Aaron, Nick and Jeremy do a great job of interrupting, mumbling, and ranting. Savage delivers great info he found on the internet that someone else reposted from another repost of a post. Shawn is a role model to everyone suffering from weight issues and male pattern baldness, what an inspiration.
Theodore Thomas RATING: ★★★★★
What is there to say about we like shooting? There is the king of diabetes who is always high on his meds. An in the closet giant who is always trying to over compensate for some issues in his past (it may just be because as a marine he still doesn't have any kills). There is the leader who is a bit like the Skipper and Gillian's love child. Some broke dude that always has someone named "Tyler" under the desk. And finally a stoned out guy who reads other people's news.
Tate Mesman reviewed We Like Shooting RATING: ★★★★★
August 21, 2017 ·
The cast of the we like shooting show is a good one. First off you have the host, Nick lunch. He is very enthusiastic and always knows what to say. Then you have A-Aron kruger, the quiet fitness guru. Next up is Savage Some Tar. The hardcore alcoholic, who's segment consists of about two short sentences. Now the shows most hated cast member, Jeramy Posdickhead. This guy is that one pacifistic guy no one likes. And last and certainly least, Shawn Heroin. I don't even know what this guy does.
But really, Great show and I tune in every week to get my fix.
Patriot Patch Company
The absolute best in patches and 2A shirts!
Giveaways!
We're here live every week on Monday nights and on demand every Thursday. Go to welikeshooting.com/show to subscribe!