WLS 250 – Registration leads to confiscation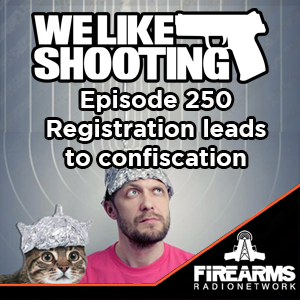 Listen to the show
LoveWLS.com
We need your help to keep the show going! Check out LoveWLS.com to find out how you can help!
This episode of the We Like Shooting show is brought to you by Second Call Defense, Manticore Arms, DEZ Tactical Arms, the Sonoran Desert Institute, JC Arms and Ammunition and Patriot Patch Company!
Check out our Shootout challenge! Targets, rules and swag available here!
Welcome to the We Like Shooting show, Episode 250 – tonight we'll talk about ATN X-Sight, Patriot Patch Co., Mesa Tactical side saddle, Magpul MOE SL Handguard, The Firearm Guy and more! and more!
Our Guest is Dan from The Firearm Guy
Gun enthusiast – 2A supporter
You can find more about Dan here
Cast
Our cast for episode 250 is Shawn Herrin, Aaron Krieger, Savage1r, Jeremy Pozderac, Nick Lynch!
Second Call Defense
If you carry or use a gun to protect yourself an/or your family then you need Second Call Defense. They handle what comes after the trigger is pulled. Don't wait until it's too late. Get Second Call Defense today!
Get a free month and a free We Like Shooting mug when you sign up! Once you are signed up forward your email confirmation to automated@welikeshooting.com to get your mug!
Manticore Arms
Reality based accessories that solve problems! Manticore Arms makes parts for your fighting rifles, whether it's an AK, AR-15, AUG, Tavor, CZ Scorpion Evo or even something else!
Get 10% off at Manticore Arms with code WLS10!
Gear Chat
Brought to you by DEZ Tactical Arms
Where we talk about the stuff we have, the stuff that we want and the stuff that we need!
DEZ Tactical Arms
Rifles and accessories for the AR-15 lover! Whether you need a full rifle or just parts to build one DEZ has your back. High quality, match grade and most parts are made in house.
Get 10% off at DEZ Tactical Arms with code WLSPATRON!
WLS Lifestyle
Brought to you by Brownell's
Where we talk about the gun lifestyle!
Brownell's
Everything you could possibly need.
Support the show by buying from Brownell's! FRN get's a percentage.
JC Arms and Ammunition
The absolute best ammo we've shot! Match grade primers, match grade powder, virgin brass and top quality projectiles, at range ammo prices. You have got to see it to believe it!
Get $5 off at JC Arms and Ammunition with code WLS5OFF!
Going Ballistic with Savage1r
Brought to you by JC Arms & Ammunition
Savage1r goes over the news of the day relating to guns, rights and more!
SDI
Learn how to be a gunsmith in the comfort of your own home. Distance learning that gives you tools and a gun in a box to build as you learn! Whether you want to get more acquianted with your AR-15 or want an associates degree, SDI is the place for you.
iTunes Reviews
Please leave us reviews in iTunes! It makes all the difference!
Rusty bulets
by ET2USN on Jun 04, 2018
RATING: ★★★★★
I'e run a lot of that USA forged 9mm through my handguns and have never had any rust on them. Good banging range ammo IMO. Walmart must have left that pallet outside in that Washington state rain.
We like shooting rocks
by autorefinisher on May 21, 2018
RATING: ★★★★★
Within the last few months I got hooked on the "€œWe Like Shooting"€ podcast. Wildly entertaining and full of insight into the industry. I really enjoy the dynamic in the show and look forward to each episode. Keep it up guys!!
Chocolate Rain
by Tpane on Jun 04, 2018
RATING: ★★★★★
I heard you playing some Chocolate Rain the other day, that was my nickname in the Army, not because I am black, because I am not, it was because we had to run like 1000 miles and I pooped myself.
We like white socks
by Cakeater on May 21, 2018
RATING: ★★★★★
I really appreciate you guys putting your selves out there, Aaron with his diabetes, Nick with his explosive IBS, Savage with his drug addiction, Shawn with his peyronies and his love for Zionist women, and Jeremy for being gay. Makes me proud to be a part of this community. Also did I mention Jeremy is gay? Yeah flaming. Like if he comes out of the closet he will set the whole house on fire.
Fission for Complements
by eddie M  on May 20, 2018o
RATING: ★★★★★
I was listening to your show while I was Traveling in a fried-out combie On a hippie trail, head full of zombie It was great because I met a guy who looked like Shawn, he made me nervous he took me in and gave me breakfast And he said Do you like shooting?  Where women glow and men plunder? Can't you hear, can't you hear the thunder? You better run, you better take cover
Then I was Buying bread from a man who looked like Jeremy in Brussels He was six-foot-eight and full of pudge I said, "do you speak-a my language?" He just smiled and tried to touch me penis And then he said Do you like shooting? Where beer does flow and men I drink man chowder Can't you hear, can't you hear the thunder? You better run, you better take cover, yeah
I got out of there and was Lyin' in a den in Bombay With a slack jaw, and not much to say I said to the man that looked like savage, "are you trying to tempt me Because I come from the land of plenty?" And he said  Do you like shooting (oh yeah yeah) Where women glow and men plunder? Can't you hear, can't you hear the thunder? You better run, you better take cover
Patriot Patch Company
The absolute best in patches and 2A shirts!
Giveaways
Winners!
Didn't win? Enter here!
We're here live every week on Monday nights and on demand every Thursday. Go to welikeshooting.com/show to subscribe!