WLS 220 – Asparagus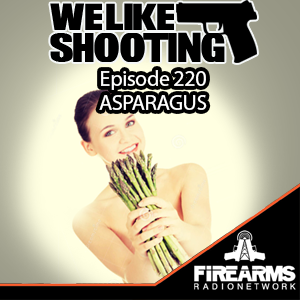 Listen to the show
LoveWLS.com
We need your help to keep the show going! Check out LoveWLS.com to find out how you can help!
This episode of the We Like Shooting show is brought to you by Second Call Defense, Manticore Arms, DEZ Tactical Arms, the Sonoran Desert Institute, JC Arms and Ammunition and Patriot Patch Company!
Check out our Shootout challenge! Targets, rules and swag available here!
Welcome to the We Like Shooting show, Episode 220 – tonight we'll talk about 30 carbine, Inforce, Blue Alpha Gear, Highjak86 and more!
Our Guest is Lance Henze from Highjak86
Shooting anything/everything, but most content focuses on practical shooting with both AR15s/modern 556 rifles and long range precision semi-auto and bolt-action rifles.
You can find more about Lance Henze here
Cast
Our cast for episode 220 is Shawn Herrin, Aaron Krieger, Savage1r, Jeremy Pozderac, Nick Lynch!
Second Call Defense
If you carry or use a gun to protect yourself an/or your family then you need Second Call Defense. They handle what comes after the trigger is pulled. Don't wait until it's too late. Get Second Call Defense today!
Get a free month and a free We Like Shooting mug when you sign up! Once you are signed up forward your email confirmation to automated@welikeshooting.com to get your mug!
Manticore Arms
Reality based accessories that solve problems! Manticore Arms makes parts for your fighting rifles, whether it's an AK, AR-15, AUG, Tavor, CZ Scorpion Evo or even something else!
Get 10% off at Manticore Arms with code WLS10!
Gear Chat
Brought to you by DEZ Tactical Arms
Where we talk about the stuff we have, the stuff that we want and the stuff that we need!
DEZ Tactical Arms
Rifles and accessories for the AR-15 lover! Whether you need a full rifle or just parts to build one DEZ has your back. High quality, match grade and most parts are made in house.
Get 10% off at DEZ Tactical Arms with code WLSPATRON!
JC Arms and Ammunition
The absolute best ammo we've shot! Match grade primers, match grade powder, virgin brass and top quality projectiles, at range ammo prices. You have got to see it to believe it!
Get $5 off at JC Arms and Ammunition with code WLS5OFF!
Going Ballistic with Savage1r
Brought to you by JC Arms & Ammunition
Savage1r goes over the news of the day relating to guns, rights and more!
Illinois State Rep Scott Drury is sending out witness application cards for hearings concerning democratic bill to ban bump stocks. It's one of the many bills moving forward in Illinois to ban everything.
SDI
Learn how to be a gunsmith in the comfort of your own home. Distance learning that gives you tools and a gun in a box to build as you learn! Whether you want to get more acquianted with your AR-15 or want an associates degree, SDI is the place for you.
iTunes Reviews
Please leave us reviews in iTunes! It makes all the difference!
Fat Stack of Monkey Crap
by JDW1570 on Oct 21, 2017
RATING: ★★★★★
Shawn, next time you decide to have a back alley abortion in a dumpster fire at least have the common courtesy to find an alley and not do it on the show…by leaving. Aaron sounded as usual, stupid and static. Great segment by savage. Nick uhhhmed it up like a true savant bookended only by his electronic incompetence. Jerambe was ( I can't believe I'm saying this ) tolerable. Almost missed whats her face. Your show was broken. You are basically a dead beat dad. I'm sending you a high point.#prettysurethatsbroken
WLS Doc
by BUMC Band Lead on Oct 19, 2017
RATING: ★★★★★
Great show. Love listening every week. I want to compliment A-A-Ron for his camera work. Smart to only show from the waist up and never do any shoe/boot reviews. Also, your insulin and test strips are ready for pickup at CVS, and your prosthetic is on back order. Call me so you can pick out a different one. Jeremy, congratulations now that your herpaghonasyphilaids has gone into remission. Your cousin is still having flare ups, so be careful next time. Shawn, I understand counseling and the budding relationship between you and Nick is helping you both, so that's great. Remind him that it's almost time to refill the narcolepsy meds this month. Savage… stop reading Reddit!
Jeremy is a Boss and Nick is always on top.
by Richer than you on Oct 23, 2017
RATING: ★★★★★
This show has it all. Gun and Gear reviews, partially homosexual, eqaulity not racist (except Savage), wider variety of content (especially Voda), and keeps on delivering. Jeremy is the star of show and exeryone clings on his coat tail. Keep it up!!!!
I hear the doves cry
by Undead Prince on Oct 23, 2017
RATING: ★★★★★
I may be a dead rockstar who has had sex with more women then are actually present on this plane of existence but I have to give props to the best show I ever heard. The We Like Shooting Show. I have only heard one show, but hearing Aaron talk about real issues with my brothers, and not shy away from hard hitting issues. Yeah, I am in heaven right now, but I am not looking down on you guys, I am looking up.
Casting Couch
by Harvey Weinstein on Oct 23, 2017
RATING: ★★★★★
I love this show, and you know what the secret to making a good podcast is? Jeremy's hand jobs. The guy has a grip like a gorilla, and he keeps eye contact. What a professional. Also he has really sweaty hands… which is a plus when he gets going. Thanks for the show, love you guys… some more than others.
Patriot Patch Company
The absolute best in patches and 2A shirts!
Giveaways
Winners!
Didn't win? Enter here!
We're here live every week on Monday nights and on demand every Thursday. Go to welikeshooting.com/show to subscribe!