WLS 213 – 4 Gatos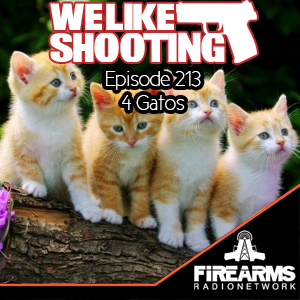 Welcome to the We Like Shooting show, Episode 213 – tonight we'll talk about Brownell's, Vortex, Ruger American, Propper, Magpul, Smith & Wesson, HB Industries, Conceal Carry, Black Rhino Concealment, Manticore Arms, JCAA Ammunition and more!
3 Bullpup shoot attendees to talk about the upcoming bullpup shoot!
Listen to the show!

You can find more about Sven Jonsson, Rob Noe, Chris Aronson here
Cast
Our cast for episode 213 is Shawn Herrin, Aaron Krieger, Savage1r, Jeremy Pozderac, Nick Lynch!
Gear Chat
Where we talk about the stuff we have, the stuff that we want and the stuff that we need!
NickLynch – Brownells scope base and Vortex rings
Savage1r – Ruger American Ranch Rifle in 7.62×39
Jerambe –  Propper Tactical Shirts
Aaron – Magpul AK kit
Shawn – SMITH & WESSON – M&P 9M2.0 9MM FDE 5″ AMBI 17+1
Rob – HB industries Flat trigger for the P-10c
Sven –  Conceal Carry Jackets at NRA Carryguard
Chris – Gear, sig p320 x5
Going Ballistic with Savage1r
Savage1r goes over the news of the day relating to guns, rights and more!
iTunes Reviews
Please leave us reviews in iTunes! It makes all the difference!
5 stars
Totallynotshawnherrin
if the cast had their own cocktails
The Herrin RANDCLP, target pack goop, and Buffalo Trace mixed in equal portions, served by the pint. The pozderac A depthcharge of ranch in a Coors light and corn liquor. Garnish with a cigarette butt.
The Lynch Tea in a shot glass. Someone has to be responsible.
The Krieger Drink four cups of wine. Leave a fifth out for your buddy Elijah.
The Savage1R A third of a fourloko. consumed while wearing a Groucho Marx Mask Or maybe just some water thanks.
Giveaways
Winners!
Didn't win? Enter here!
We're here live every week on Monday nights and on demand every Thursday. Go to welikeshooting.com/show to subscribe!