WLS 204 – Happy 4LOKO of July!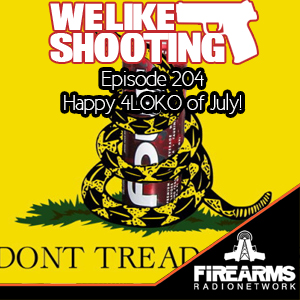 Welcome to the We Like Shooting show, Episode 204 – tonight we'll talk about Primary Machine, ETS, Glock, The 3-Gun Show and more!
Full time podcaster and 3-gunner, host of the 3-Gun show.
You can find more about Dave Hartman here
Listen to the show
Cast
Our cast for episode 204 is Shawn Herrin, Aaron Krieger, Savage1r, Nick Lynch!
Gear Chat
Where we talk about the stuff we have, the stuff that we want and the stuff that we need!
Going Ballistic with Savage1r
Savage1r goes over the news of the day relating to guns, rights and more!
iTunes Reviews
Please leave us reviews in iTunes! It makes all the difference!
Better than listening to sea lions mate
by Stackle2 on Jun 26, 2017
RATING: ★★★★★
Honestly, not the best out there, but I'd rather listen to this than have my prison pocket rabidly destroyed by a HIV infected sea lion. Just saying….In all serious, I greatly enjoy the show. I work solo outdoors most days, so I picked up a set of earbuds so I can listen while I work. Its perfect for losing track of time, makes my day fly by. Good humor, great information. Side note- contacted SDI about getting some admissions info. Didn't think it was for me, until I heard the interview with the guy from SDI, when they were talking about who can benefit from attending, he basically described me. I look forward to getting signed up.
Giveaways
Winners!
Didn't win? Enter here!
We're here live every week on Monday nights and on demand every Thursday. Go to welikeshooting.com/show to subscribe!