Stevens 350 Security by Savages Arms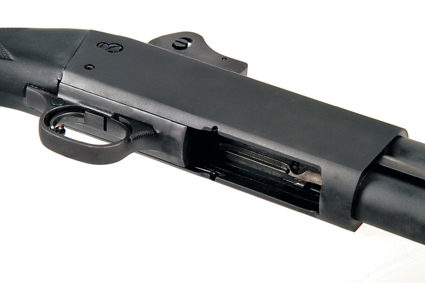 Stevens 350 Security by Savages Arms
Heavy and hard-hitting. These are the words I would use to describe the Stevens Model 350 by Savages Arms. If you don't know much about shotguns, let me give you a brief history on this guy. The Stevens 350 Security is a Chinese clone of the Ithaca 37. This is a trench shotgun. (What the hell does that mean?) That means it was originally built to be durable with little chance of screwing up. One of the features is the load and ejection points are in the same place. While many (most) pump-action shotguns eject from the top right side of the gun, this ejects from the bottom. One hole means less chances for dirt to get inside. Also a plus for lefties.
PRO TIP: Spend the extra money and get the ghost ring sights.
When I picked up the Model 350, the first thing I noticed was its weight. It is heavy, but that is by design. It is not sexy, and is not for people who will need to use their shoulder a lot. Even with the weight of this gun after three rounds I could feel it. It seems a lot of the energy disperses straight back at you. Be aware.
PRO TIP: A lot of people complain about the machining parts of this gun. You might need to disassemble and do some polishing.
What is this gun good for? A hell of a lot of things. While it is heavy, with a hard recoil, it shoots straight, dare I say, dead-on accurate at about 20 yards, with 00 buckshot and rifled slugs.
Pros
Accurate
Performs well with heavy loads
Good for a three-gun shooting competition
Price!!
Cons
Hard recoil
Some rough internal parts
Recommendation
This gun is essentially the same as an Ithaca 37 but with a lower build quality. However, the Stevens 350 is half the price of a new Ithaca 37. If you can afford it, I would recommend just getting the real thing, but if you are on a budget and would like a shotgun, get the Stevens.