Streamlight Sidewinder And Sidewinder Compact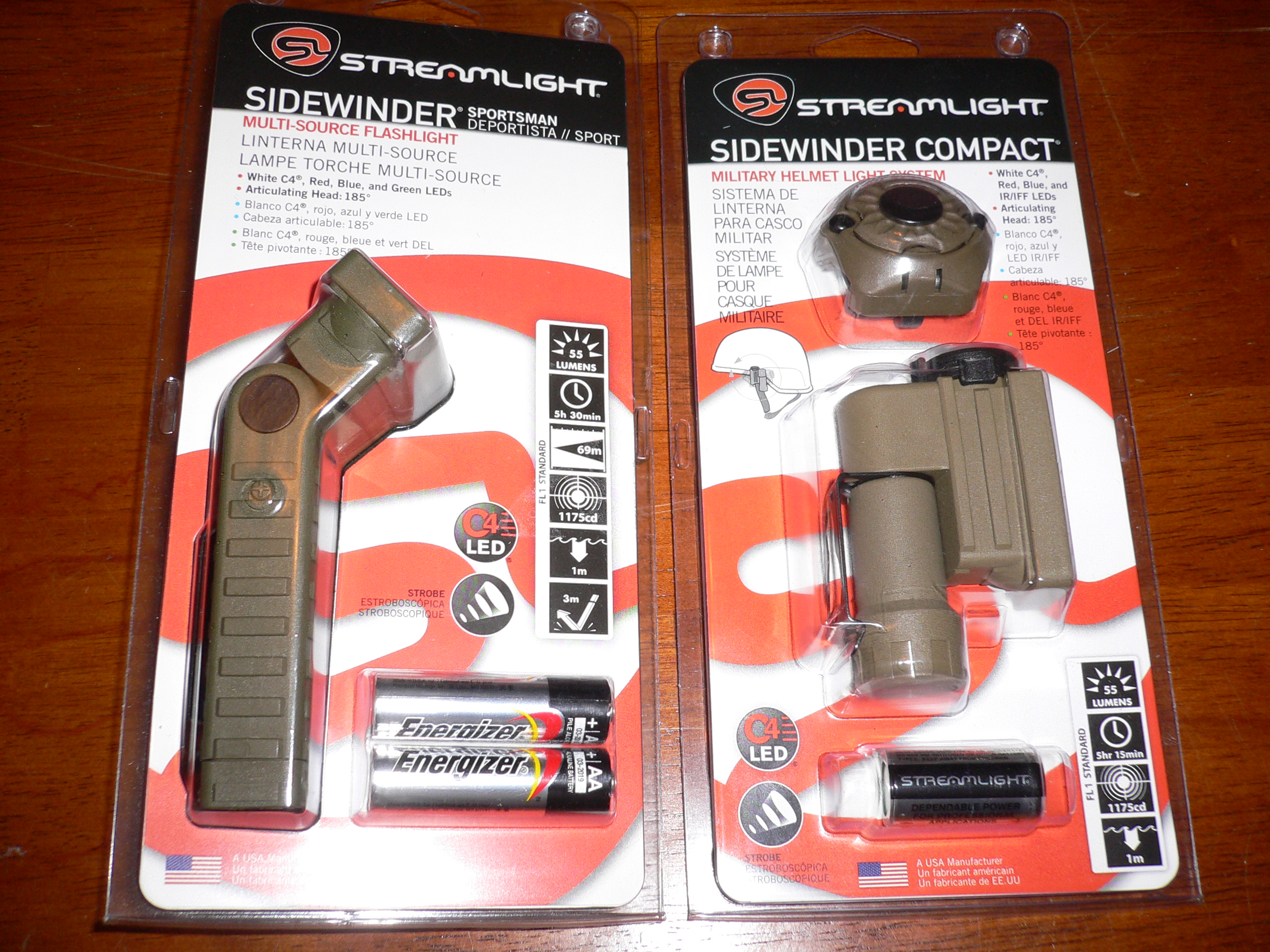 -TWO MODELS, SIMILAR FEATURES-
With so many hand lights available on the market today, it's difficult to decide on a specific manufacturer and model. I needed a flashlight that met certain requirements, as I hunt and fish at early dawn, dusk, or in total darkness. There was also a need for something that would fit the E.D.C. (every day carry) role, and as a mounted light in my truck. Here are some of the features I was looking for (yours may differ):
Minimum 50 yd. effective range
Multiple lighting options (color and brightness)
Water proof
Impact resistant
Light weight
Compact
Hands free/mountable
Minimal 4 hr. operation
Aim-able beam (flexible head)
My search came to an end when I came across Streamlight, and their Sidewinder line. They offer three different models; Sidewinder, Sidewinder Compact, and the Sidewinder Compact 2. In this article, the Sidewinder (Sportsman version) and the compact model (Military version) were tested. The Compact 2 is similar to the original compact model, but with a design change, and an added accessory. Here's what's different (Compact 2 model):
Will also accept AA batteries (besides the CR123A)
Also includes a headband to mount the light to
Tethered battery compartment cap
These Streamlight products were designed to replace the heavy (by comparison) and bulky crookneck flashlight used by the armed forces, and have been adopted by the USMC. In an attempt to keep this article brief and to the point, I have omitted some of the technical specifications. To view the full product fact sheets for each model, please click; Sidewinder, Sidewinder Compact, Sidewinder Compact 2. The illumination specs. and heads are identical between the models, but each model does have advantages over the other depending on your P.O.U. (philosophy of use). We will go over the specific features of each tested hand light later on. The light heads swivel 185-degrees, making it extremely versatile (especially if paired up with a mounting accessory). Both will also fit into the P.A.L.S. webbing on the M.O.L.L.E. system, as well as the webbing on the E.L.B.V. and A.L.I.C.E. systems. The available colors (body) are olive drab and coyote tan, with a M.S.R.P. of $103 – $131.84. Your available price may vary. All of the Sidewinder models are designed to accept a number of mounting options by way of the steel clip, and are available from Streamlight. During the torture test, both Sidewinders passed the drop test (about 3′), and water submersion (1′ deep for 1 hr.). They also passed the toddler test; my two and four-year old threw them down the stairs, kicked them across the floor, and bounced them off the walls.
-THE ILLUMINATION OF BOTH MODELS-
These models are available with a variety of lighting options, and have four brightness settings for each. The following specifications are with the "high" or 100% illumination setting. The white light is produced from a C4 LED (55 lumens) with a range of 69 meters (approx. 75 yd.). The 5mm color LEDs are:
Red – 1 lumen, 13m. range (approx. 14 yd.)
Blue – 1.8 lumens, 23m. range (approx. 25yd.)
Green – 4.5 lumens, 16m. range (approx. 17.5 yd.)
IR – : 25mW/sr (min) radiant intensity
The lighting options are categorized as:
Military – white, red, blue, IR
Aviation – white, green, blue, IR
Tactical (sportsman) – white, red, blue, green
Medical – White, red, green, and IR
Testing of the lights was conducted at 9ft. (unless otherwise noted), and aimed at an 8.5″ x 11″ piece of white paper. For the IR test, I used a baby monitor that was capable of viewing the radiant light. While this isn't the best optic to use to show the true potential of the IR LED, it did show some results. Over-all, I would say that the following images are close to true-to-life (the lights were slightly brighter). As you can see, the beams are well focused for what they're designed for; short – medium range.
To activate the light, you depress the switch inside of the selector knob. The Military and Aviator light options activate at a low output level (regardless of color selection), and the Sportsman activates at a high output. I believe that Streamlight designed them in this way, based on the need for immediate low or high lighting (ex. combat, hunting). Increasing (or decreasing) the intensity is done by holding down the power switch. For a strobe function (high output blinking light), double-click. To change the lighting type; simply pull up on the selector ring, rotate to the desired selection, and release to lock in place. There is also an indexing tab that shows the position of the IR or green LED (depending on light option).
-SIDEWINDER SPECIFIC FEATURES-
The design of this hand light incorporates many features that make it a top choice for any service member, sportsman, or prepper (including E.D.C.). On the body; you can change the position of the clip, so you can have the activation switch on the left or right. The sides have indexing studs that you can feel in total darkness. These studs are marked with a + symbol, and denote where the positive end of the batteries need to be for proper operation. On the battery compartment cap, you have a lanyard hole (25lb. load capacity). The inside contains a tether so you won't lose the cover by dropping it, and may be secured with the lanyard hole on the left or right side.
At 1.5″ wide, the clip mounts onto my belt. This is a great option for hands free operation, and I've used it as a marker light when walking the dog at night. More great uses in this fashion are home and auto. Changing light bulbs, fixtures, and even changing a newborn in a dark bedroom is made easier. Although I haven't had to do this yet, having the Sidewinder on my belt gives me comfort while changing a tire or performing emergency vehicle maintenance at night. I will primarily use this light for hunting/fishing, truck flashlight (glove box or console), and in the home.
-SIDEWINDER COMPACT SPECIFICS-
Extremely compact in size, this has become my E.D.C. flashlight. It easily attached to the shoulder strap of my bag, and fits in the hand easily. The clip is only 1.25″ in width, so it doesn't fit my belt correctly. I've taken the helmet mount and installed it on the visor in my truck. This is a perfect solution if your vehicle doesn't have a low intensity map light built-in. The use of the included mount also allows for a 360-degree rotation. Combine this with the 185-degree head pivot capability of the Sidewinder Compact, and you have a light that you can aim virtually anywhere inside (or outside) of the cab. Even though it didn't come with a headband, I have found that it works well as a headlamp when attached to the webbing on a boonie cap. Perhaps I will use this for hunting and fishing as well. Since this product takes only one battery, there are no indexing markers. Just remember head (or positive) first when installing a battery. Also, hold on to the compartment cap, as it doesn't have a tether (only the Compact 2 does). The last feature I would like to mention, is the lanyard hole. It's located on the steel clip, and has a 25lb. load capacity.
-Final Thoughts-
In my opinion, the Sidewinder series of hand lights are a great option for a wide variety of uses. With the amount of lighting, mounting, and aiming features, they're hard to beat. They've withstood endurance testing, and when it's all said and done, it's no wonder that the Sidewinders have been adopted by our Military. I would highly recommend these products to anyone. And why wouldn't I? The hand light I use as a Fire Fighter is a Streamlight (Survivor), and it's built to survive the harshest conditions. I should have expected nothing less from this company, or their products. Do yourself a favor…. Get a Streamlight Sidewinder, and don't look back.
Thanks for reading,
-Rhody