SOG Trident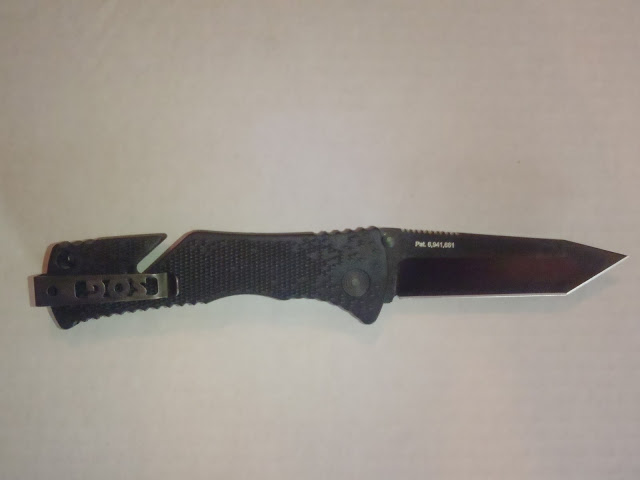 The SOG Trident  has become my blade of choice when on duty as a Fire Fighter. All of the tanto style blades have a straight edge, but it is also available with a clip point blade, which can be straight-edged or half serrated. The model I own has the TiNi finish in the blade, that helps protect against rust, scratches, and corrosion.  The blade's made of AUS 8 steel, has a length of 3 3/4″, and a width is 1/8″ making it thick and sturdy. The overall length is 8 1/2″. It weighs about 3 1/2 oz. The MSRP is $114, but I purchased mine for about $60.
SOG's Trident has a lot of great features packed into its design. The pocket clip is ambidextrous and sits low in the pocket. The handle is held together by hex head screws that allow you to open it up for cleaning and lubrication. The grip design is good, having finger grooves and checkering. It has a built-in safety to prevent the blade from opening. Also built into the handle is a grove that allows you to cut para cord or seat belts without opening the blade, and a lanyard hole. The assisted opening system is adjustable if you have side to side play, and the Arc lock is rock solid when the blade is fully opened.
Why did I choose the tanto style blade? Durability. While it doesn't give you the fine tip control of a clip point, it has greater resistance to tip breakage (being thicker). Personally, I'm not a big fan of SOG's aggressive serration design, so I went with the plain edge. I've smashed out a vehicle's window with the butt of the handle at a car accident, and have cut through the plastics used in their interiors. The cutting groove doesn't cut as fast as you would think. It does require you to work a little harder when cutting, but works well.