SOG SOGfari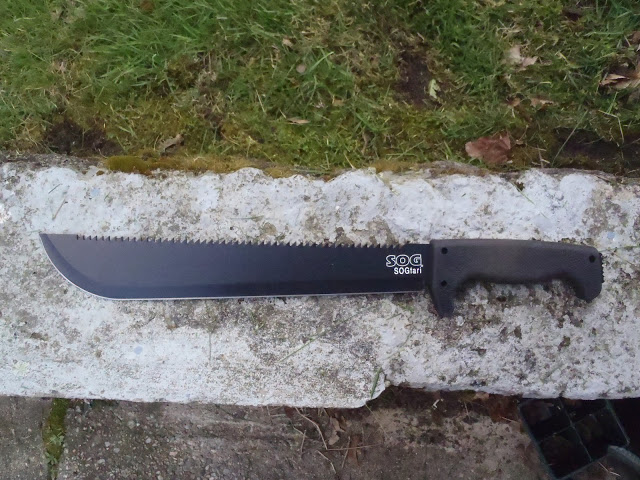 One of the best hand tools you can have with you in a survival situation or just to clear brush, is a long blade such as a machete. I recently used the SOG SOGfari.
While I classify this blade as light duty (being about 1/16″ wide), it handled well clearing small trees with diameters up to 2″. It feels well-balanced weighing 13 oz., with no over excessive tip or handle weight. The blade length I used is 13″, and it has an effective saw back design. Gripping this tool is a non issue, due to the design and the rubbery kraton material used to make the handle.
The SOGfari's tang is full length, and gives you a serrated striking point on the butt. There is also a 18″ version available. The sheath is a simple nylon design, with a hook and loop closure. Inside of the sheath, it has hard polymer guards to cover the blade and saw back.
SOG's SOGfari has proved to me that you can buy an inexpensive hand tool that is reliable, and holds a decent edge. Just don't strike a hard surface, or the blade's edge will fold and chip. The MSRP is $27.00, but I was able to pick this up for $19.99. Overall, I would say the SOGfari is useful and cost efficient.