SD Tactical Arms – SHOT Show 2016
GearDisclosure.com: This is not a review, just a product that caught our eye. Inclusion in this video does not represent a product opinion from WLS.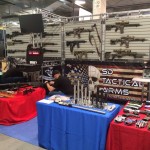 Solvent traps are illegal to use as a suppressor. We're talking federal penitentiary here folks. There are still hundreds of places selling them online. SD Tactical Arms makes no qualms about what it makes and how to make it legal. We think you should consult a lawyer. We are not recommending a course of action here. Don't break the damn law. Do it right.
We got a quick rundown on one of their products. It's solvent traps. However, you can Form 1 these and use it as a suppressor. Form 1's are taking around five months at the time of this article. There are serious legal questions as to order of purchase / tax stamp etc. For example, if you buy the solvent trap, then Form 1 it, were you in possession of a suppressor since the intent was to Form 1 it? It's a legal gray area in this editor's opinion. I must admit though I am highly interested in checking out SDTA's work.