VISM NcStar Tactical Back Pack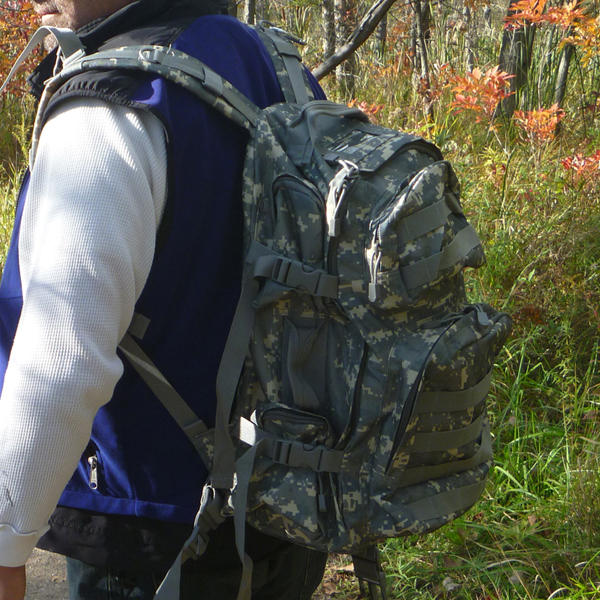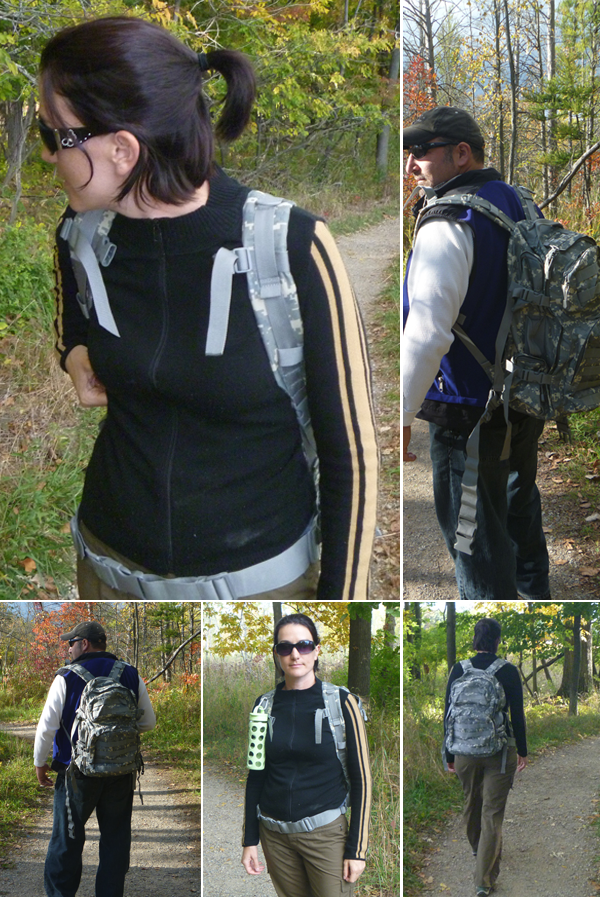 VISM NcStar Tactical Back Pack
[displayproduct]
When we received the VISM NcStar Tactical Back Pack, we expected to find just a standard clamshell main compartment opening pack with some standard features. We were wrong. First off, there are plenty of small pockets, all with large zippers. There was also a zippered mesh pocket inside the main compartment that held quite a few objects of varying size.
The pack material itself appears to be thick and strong and feels solid. There were no loose threads around what seems to be double-stitched seams.
One of the features we liked was not only was there a grab handle on top but there is also one on each side of the pack so you can carry it like a suitcase.
There is MOLLE webbing on the front and bottom for attaching things, making this item very modular.
The shoulder straps are nicely padded which made for a comfortable hike, but the unpadded waist belt was a bit snug for my 38-40-inch waist. It might work if you are in better shape (thinner), but I like to think of myself as a typical American (just better-looking).
So I packed up the VISM NcStar Tactical Back Pack like I would a typical bug-out bag: gear, clothes, knives, handgun, ammo, flashlight, radio, books, some cash and found there was plenty of room. First test passed.
I then pulled all those items out and repacked it for a day hike in the woods: GPS, first-aid kit, snacks, extra clothing, knives, handgun, ammo, flashlight, binoculars, etc. Plenty of room.
I headed to the middle of nowhere and hiked for about five miles. The pack itself, while not having the waist straps on, felt super-comfortable. It handles very nicely on my back. There is, however, no padding in the back, so if you have something sharp in there, you are going to know about it. I was able to attach two Nalgene water bottles via a carabiner to the MOLLE webbing. The pack is not very well-ventilated, and I found my back got a bit sweaty. But I was out hiking in the woods, not going to a dinner party. I was not bothered too much by that.
Tech specs
Main compartment dimensions: 18" H x 12" W x 6" D
Side pockets, two on each side: 5" H x 5" W x 1½" D
Front pockets: Top 8" H x 4½" W x 2" D & Bottom 9½"H x 9½"W x 3" D
Two side compartments: 14″Hx7″Wx3″D.
Features
Rear compartment for hydration bladder (bladder not included).
Pals webbing on the front and sides allows you to add any gear or pouches you may want to take with you.
Padded and adjustable shoulder straps and waist strap.
Hook and loop patch on front with removable business card window.
Four cinch straps.
Cost
$16.83 – $48.99
Pros
Very roomy
Well-constructed
Sternum straps and waist strap
Four cinch straps on the side to decrease profile
MOLLE webbing
Several external pockets
D-rings on the front made of metal not plastic
Cons
Waist belt runs a bit small
Lack of padding on the back
Recommendation
Some people say you get what you pay for, but in this case, you are getting a lot more.  If you need a day pack or bug-out bag, this will serve you well.