Two for one! VZ Grips and Breakthrough Clean – #big3east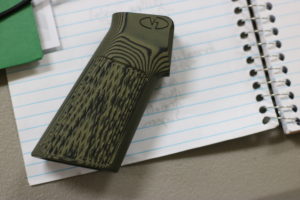 VZ Grips is now jumping into the long gun market with grip panels, hand stops, and their brand new one piece G10 pistol grip. The tolerances look really nice.
While we were there we talked about Breakthrough clean as well. The kit looks like something I need.
What are your thoughts?
We received an invitation to attend #big3east this year and were very excited to go. At most events the media is regarded with something slightly less than utter disdain. For example at SHOT Show, vendors are working on distribution and sales deals and when media comes up it takes their staff away from sales. We get that. 
At Big 3 East, the media is welcomed and genuinely appreciated. It was a pleasure talking with companies in an environment like this and we can't wait to go back twice a year! Thank you to Big 3 East and all of your staff for the outstanding hospitality!
Big 3 East
Big 3 stands for Tactical gun, Tactical gear and Tactical training that gathers gun industry content creators such as David Fortier, James Tarr, Andre' M. Dall'au with significant manufacturers, trainers, creators and importers of firearms and related gear. Twice a year for the last ten years Big 3 East has hosted a three day industry event for industry writers, bloggers and videographers.
GearDisclosure.com: These products were purchased at full retail price. No financial compensation was provided to WLS for this interview.