Short-barrel Suppressed 9mm AR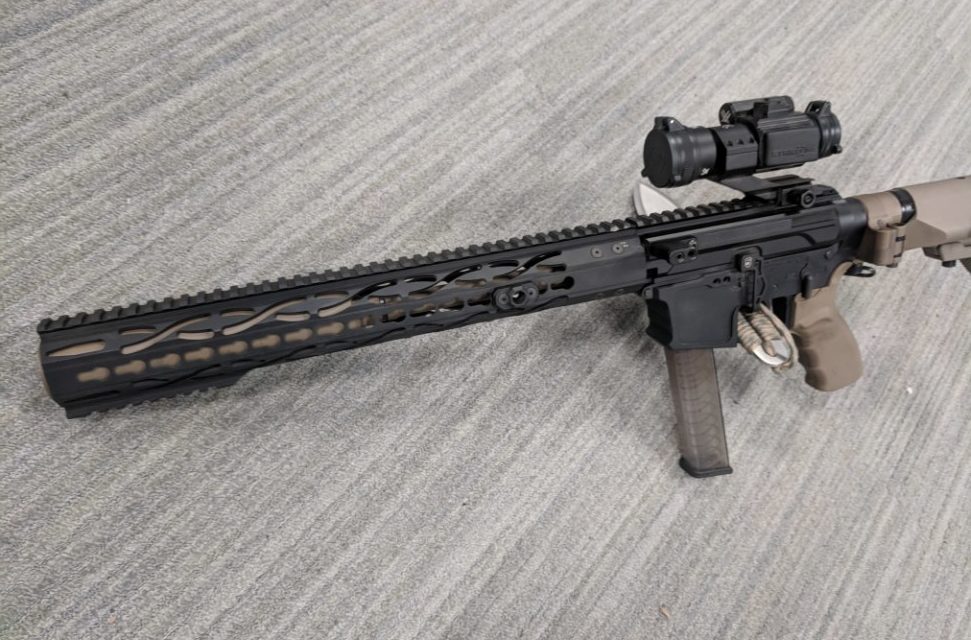 This rifle is just stupid fun to shoot. A 9mm SBR with a suppressor just makes you wanna load up 1000 rounds and go to town.
This build was started when I was given a 9mm AR barrel from Faxon Firearms (coupon code: wls10) and it just spun out of control from there. 2 years later we have the final product, and trust me, you want something similar to this. A soft shooting, quiet, ammunition unloading device. Everyone that shoots this thing has a blast.
One thing we noticed about this rifle when we first started shooting it, was it was shaving every brass that went into the chamber because the barrel had some sharp edges around the chamber. 2 minutes of light file work to take the edge off the bottom solved that problem and it wasn't an issue anymore. It's not like the rifle didn't function the way it was, I just didn't want brass shavings clogging up the works or the possibility of it. The Strike Fire II works fantastically with this setup. Nice view and easy to see red dot on a "short range" firearm, it's a perfect pair. The ETS magazines have worked flawlessly in this rifle the entire time. The DEZ 15″ hand guard  over top a 7″ suppressor and an 8.5″ barrel is almost flush at the muzzle. The Law Tactical folder is just a cool little add-on that doesn't really affect function, but does make it fit in shorter rifle bags.
All in all, it's a fun little shooter that hits where I point it and goes bang every time it's supposed to.
Parts List:
Critical Capabilities Lower Receiver (Brownells-Sponsored)
X-Products Side Charge Upper Receiver (X-Products-Show Acquired)
Faxon 8.5″ 9mm Barrel (Faxon-Sponsored – coupon code: WLS10)
Rebel Silencer Suppressor (Rebel Silencers-Purchased)
DEZ Tactical Arms 15″ Handguard (DEZ Tactical Arms-Discounted Purchase – coupon code: wlspatron for 10% off)
CMMG Parts Kit (River's Edge Tactical-Sponsored)
UTG Grip/Stock/Buffer Assembly (River's Edge Tactical-Sponsored)
Faxon 9mm BCG (Faxon-Discounted Purchase – coupon code: WLS10)
ETS 31rd 9mm Glock Magazine (River's Edge Tactical-Sponsored)
Vortex Strike Fire II (Brownells-Sponsored)
Law Tactical Side-Folding Stock Adapter (Brownells-Sponsored)
Phase 5 Bolt Assist (River's Edge Tactical-Sponsored)